HORIZON TESOL AWARDS SCHOLARSHIPS OF 86 MILLION VND FOR UEF STUDENTS ON THE 10-YEAR CEREMONY OF ESTABLISHMENT
On September 23, 2017, Ms. Nguyen Thi Anh Thu – Center Manager and Mr. Jonathan Stokes – Academic Manager representing Horizon TESOL attended the 10th anniversary of University of Economics – Finance (UEF) and start of the new academic year 2017-2018 at the City Hall.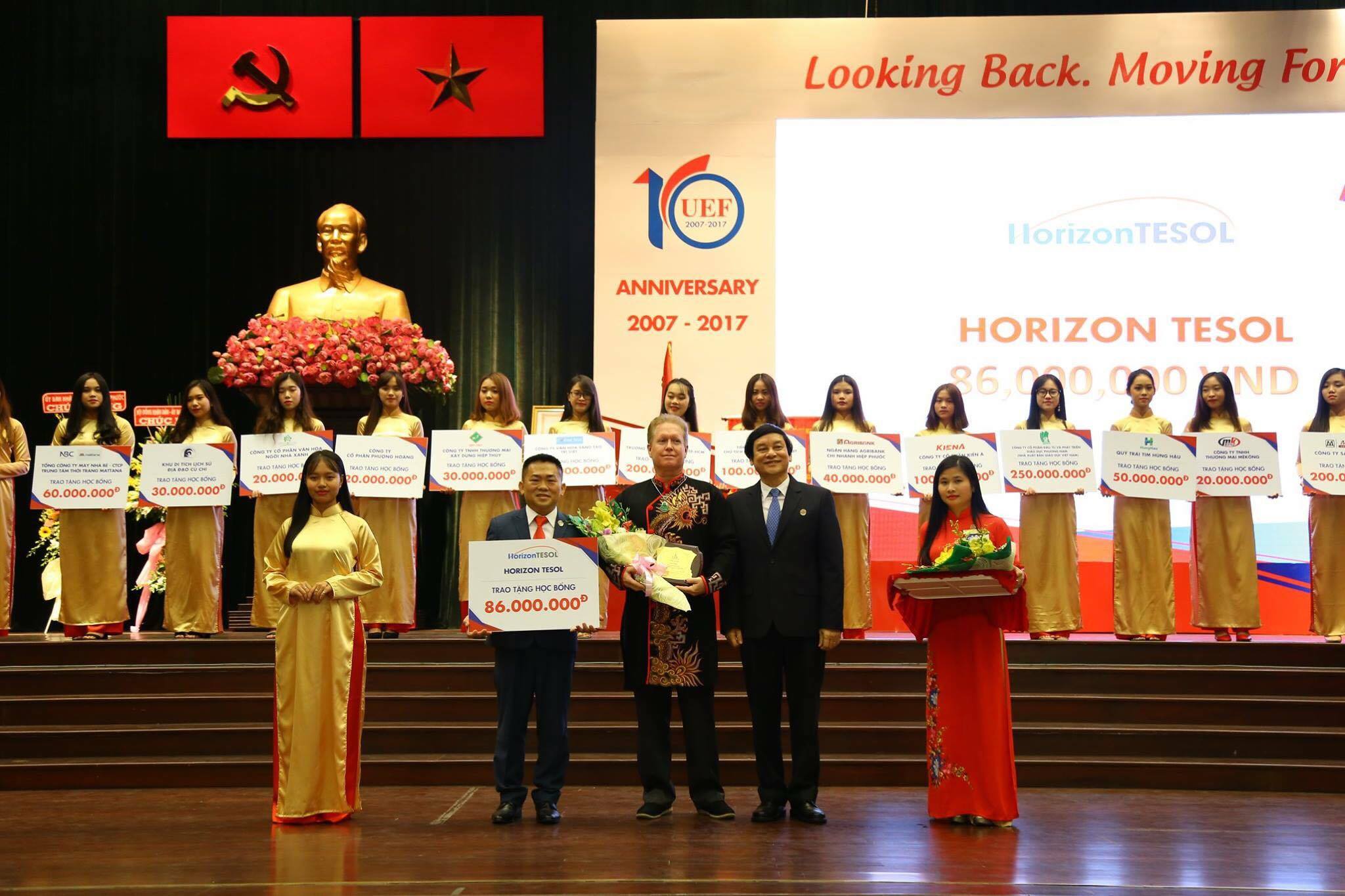 Attending the ceremony were the presence of Mr. Nguyen Van Vui – Director, Department of Emulation and Commendation (Ministry of Education and Training), Ms. Truong Thi Anh – Vice Chairman of the City People's Council, Mr. Huynh Cong Phung – Deputy Director Department of Home Affairs, Head of the City's Emulation and Reward Council, Mr. Ha Huu Phuc – Director General, Director of the Representative Office of the Southern Ministry of Education and Training (MOET), Head of the Ho Chi Minh City Department of Education and Training and 24 companies, commercial banks, economic groups as well as units, departments and unions.
As part of its social responsibilities, TESOL Horizon regularly awards scholarships to talented and studious students. Therefore, on this occasion, Jonathan Stokes – Director of Academic Affairs on behalf of Horizon TESOL awarded scholarships worth a total of 86 million dong to UEF students.
With the purposes of celebrating both 10th-year-anniversary of the center and the partnership with UEF university about their students' study and career paths, Horizon additionally assists the opportunities of approaching and enhancing the students' foreign language proficiency, motivating the learning-teaching activities, especially outstanding English students with ambitions in teaching. Besides, we spur their assurance to enter international labour markets. As always, Horizon keeps accompanying and supporting UEF students to create a great labor force and meet society's demands.
Horizon TESOL wishes University of Economic and Finance (UEF) a flourishing development, students a prosperous study and career paths, the Horizon Tesol – UEF partnership a consistent and stable status.